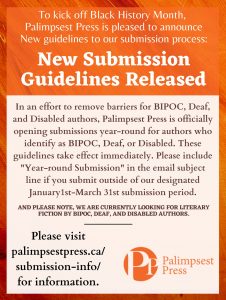 To kick off Black History Month, Palimpsest Press is proud to announce new guidelines to our submission process.
NEW SUBMISSION GUIDELINES RELEASED:
In an effort to remove barriers for BIPOC, Deaf, and Disabled authors, Palimpsest Press is officially opening submissions year-round for authors who identify as BIPOC, Deaf, or Disabled. These guidelines take effect immediately. Please include "Year-round Submission" in the email subject line if you submit outside of our designated January1st-March 31st submission period.
And please note, we are currently looking for literary fiction by BIPOC, DEAF, and DISABLED authors.
Check out our full guidelines here: Submission Info